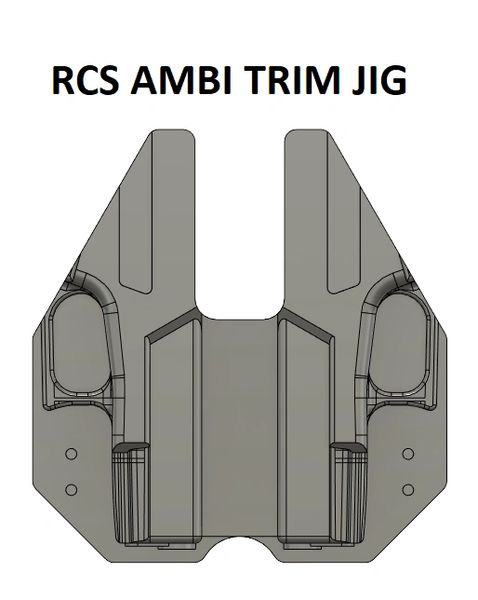 TRIM JIGS ONLY
LEAD TIME IS BETEEN 2 TO 3 WEEKS ON AVERAGE 
    ALL TRIM JIGS ARE MADE TO ORDER. WE DO NOT GENERALLY KEEP STOCK ON HAND.
    PICTURES SHOWN MAY NOT REPRESENT THE MODEL YOU'RE LOOKING FOR. THEY ARE ONLY INTENDED TO ILLUSTRATE THE TRIM JIG STYLES THAT ARE AVAILABLE.  
-AVAILABLE TRIM JIG CONFIGURATIONS: PLEASE SEE PHOTOS
    NO ATTACHMENT BLOCKING – NO EXTRA BLOCKING OR DRILL INDICATORS ANYWHERE - BARE BONES - YOU ADD WHAT YOU WANT
    FOMI BLOCKING – BLOCKED FOR FOMI CLIPS AND 1 DRILL INDICATOR PER SIDE IN FRONT OF THE TRIGGER GUARD
    RCS INDEX POINTS – 2 DRILL INDICATORS IN FRONT OF THE TRIGGER GUARD FOR ATTACHING OVERHOOKS, CLIPS AND WINGS WITH 15MM/.591" SPACING
    FOMI & RCS – FOMI BLOCKING ALONG WITH RCS DRILL INDICATORS
    SAFARI-T BLOCKING – BLOCKING FOR BOTH SAFARILAND AND TEKLOK HOLE SPACING - HANDING IS ORIENTED FOR OUTSIDE THE WAISTBAND USE, NOT IWB
    OWB CANTED AND ZERO CANT - SEE PICTURES
    APPENDIX PLUS MAG WITH EITHER STANDARD OR REVERSED RETENTION LOCATION
    2 PIECE SIDECAR 
- HDPE TRIM JIG FEATURES
    0.3-.5" SIDEWALL FOR EASY USE ON MOST TABLE MOUNTED ROUTERS
    MOUNTING POSTS ON MOST TRIM JIGS (NOT ON "NO ATTACHMENT" STYLE) HELP KEEP YOUR KYDEX SHELL IN PLACE
-AVAILABLE IWB/SPLIT MOLD TRIM JIG CONFIGURATIONS: SEE PHOTOS 
    AMBIDEXTROUS – FULL SWEATGUARDS ON BOTH SIDES
    RIGHT OR LEFT HAND ONLY – FULL SWEAT GUARD ON THE INSIDE, ANGLED CUT ON OUTSIDE SWEATGUARD
    RCS AND SAFARI-T MOLDS CAN USE THE SAME TRIM JIG
    NOT ALL TRIM JIGS ARE CROSS-COMPATIBLE - SEE PHOTOS - FOMI TRIM JIGS AND RCS TRIM JIGS VARY
- APPENDIX PLUS MAG AND 2 PIECE SIDECAR TRIM JIGS ARE AMBIDEXTROUS
- OWB TRIM JIGS ARE ONLY AVAILABLE IN THE HANDING THAT THE MOLD WAS ORDERED IN.