CANTED OWB MOLDS (RUGER THROUGH WILSON COMBAT)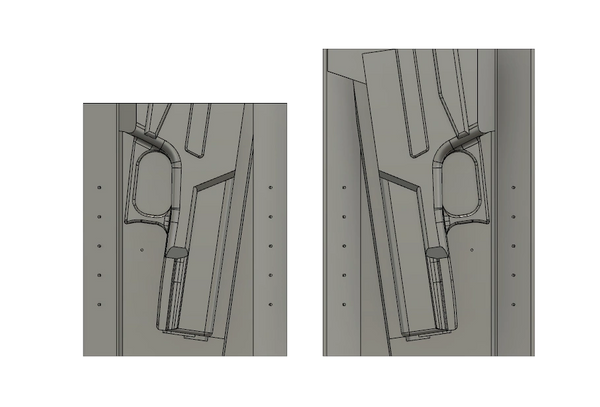 CANTED OWB MOLDS (RUGER THROUGH WILSON COMBAT)
LEAD TIMES: BETWEEN 2-3 WEEKS AVERAGE
Our standard OWB mold lineup comes with built in adjustable retention and a built in 8-10 degree forward cant. Our molds are modeled with Computer Aided Design technology and are CNC machined. Each mold comes with the controls, ejection port, sight channel, and trigger guard blocked out. Molds are slightly oversized from the actual gun so you won't need tape for clearance. Unlike HDPE forming molds produced by other manufacturers, this material will allow most tapes and glues to stick so if you wanted a different fit or your own custom blocking you can accommodate that easily. Also this material does not warp or cup like HDPE tends to with heat and repeated use. Trim molds (not subjected to heat) are made of HDPE and save countless hours of drawing and cutting when used correctly. Molds come with a 15 degree draft cut on the edges for easier mold removal.
OWB Molds come with built in adjustable retention and either pre-set drill index points for ¾" spacing for eyelet holes or no pre-set drill index points. Wings are pre-bent to accommodate most angled/offset loops and some flat style loops.
Trim molds are made of HDPE and feature a roughly 0.3" - 0.5" vertical sidewall for use with a trim bearing bit on a router table. Trim molds have anchoring points based on the forming molds' drill index points which help stabilize the holster shell on the trim mold. For safety purposes, padded push blocks should always be used when using the trim molds and a router.
Email first for questions about changes. Minor changes may or may not result in increased costs based on the time it takes to make the changes. Custom molds and trim molds are available but only at an increased cost.  Unless specifically requested otherwise, the adjustable retention spacing on these molds creates a .25" opening at the muzzle end of the holster to allow debris to be washed out. 
If the 3/4" eyelet spacing is selected, this spacing may work with other loops but is set up to work with at least the following belt loops:
https://www.ifithermoplastics.com/products/belt-loops-clips-holster-hardware/sclp150bk