X2 PIECE SIDECAR GUN-SIDE ONLY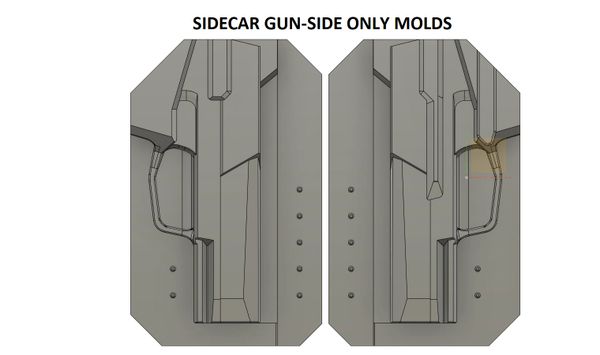 X2 PIECE SIDECAR GUN-SIDE ONLY
LEAD TIME IS BETEEN 2 TO 3 WEEKS ON AVERAGE 
    ALL MOLDS ARE MADE TO ORDER. WE DO NOT GENERALLY KEEP STOCK ON HAND.
    PICTURES SHOWN MAY NOT REPRESENT THE MODEL YOU'RE LOOKING FOR. THEY ARE ONLY INTENDED TO ILLUSTRATE THE TRIM JIG STYLES THAT ARE AVAILABLE.  
    2 PIECE SIDECAR - GUN SIDE ONLY. TRIM JIGS ORDERED ON THIS PAGE WIL NOT INCLUDE MAGAZINE TRIM JIGS.
- HDPE TRIM JIG FEATURES
    0.3-.5" SIDEWALL FOR EASY USE ON MOST TABLE MOUNTED ROUTERS
    MOUNTING POSTS ON MOST TRIM JIGS HELP KEEP YOUR KYDEX SHELL IN PLACE